98% of people were shopping for masks in the last 12 months!!!
That's crazy…
Covid-19 is still here.
The rise of this pandemic situation has kind of forced us to masks ourselves up.
In fact, it has become one of the most essential and bought necessities of 2020.
Everybody is searching for 'masks for coronavirus.' You need to have this face shield to stay safe and keep others too. Some even searched for the best fashionable masks in India too.
Of course, everyone wishes to look stylish, and yet protect themselves against the virus.
No one can really skip this very urgent necessity in 2020, and maybe ahead.
Just see what's the demand for face masks in India in the last 12 months.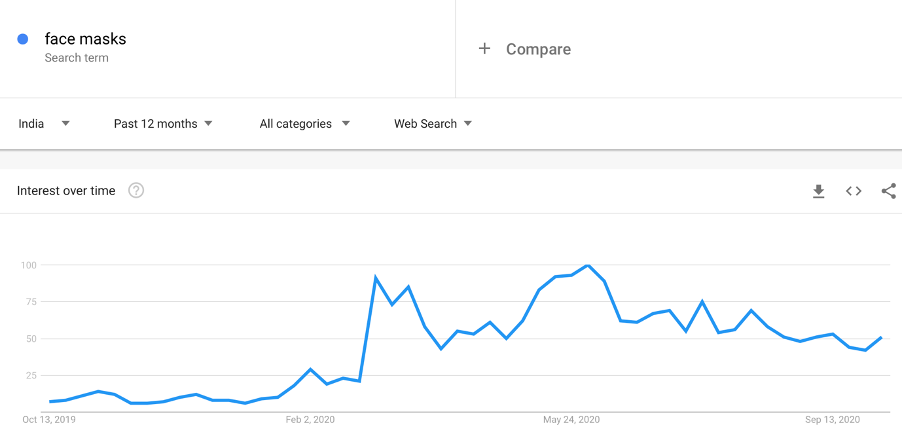 Source: Google Trends
Here are the top states in India, who bought the maximum number of masks in the last one year.
Source: Google Trends
In fact, companies came up with different masks to satisfy the needs of different customers. So, let's check out these best fashionable masks in India – Make the most of this lockdown!
Here are the best fashionable masks in India that you can buy too, as per your style, demand, and need.
1.Masks for Face n95 (Washable)
Check out some best fashionable masks in India in this category right here:
Current Price – Rs. 399 for a set of 6 masks – (discounted price)
Washable
CE certified & ISO MARK
Lightweight material
Suitable for all (men & women)
Filtration efficiency more than 95% of 2.5 PM
Smooth flow of air
Perfect for long-term wearing
6 masks in one pack
Current Price – Rs. 597 (discounted price)
Close facial fit
GMP Certified Company, ISO 9001:2015, ISO 13485:2016, EN 149: 2001 + A1 : 2009
High protection against dust, allergies, pollen, pathogens, and airborne irritants
Strong seal around nose and mouth
Made in India
2. Colorful Face Masks
Then, there is another category of best fashionable masks in India. These are all stylish and colorful masks. Here are a few:
Current Price – Rs. 385 (discounted price)
4 masks in one pack
Different Colors available, including lead green, baby pink, peach, and black.
Unisex face mask
Designer party wear a hand-painted face mask
100% cotton
3 layered stylish masks for both men and women
Protection against dust, pollen, smoke, weather, and dust
Washable up to 30 times (gentle wash)
Current Price – Rs. 299 (discounted price)
Cotton material that is breathable, comfortable, and soft to wear.
The material is stretchable and fits all sizes perfectly.
Earloops are stretchy, hence can be adjusted on different face size.
Suitable for both men and women.
You can even wear it for cycling, running, climbing, and traveling.
Reusable and washable.
Current Price – Rs. 370 (discounted price)
Comfortable, safe, and fashionable
The outermost layer is the premium cotton fabric.
The innermost layer of the mask is soft cotton fabric.
Mask sits comfortably on the face.
Inbuilt nose pin for grip and complete protection of the face.
Completely breathable, washable, and reusable.
Made to provide complete protection against the germs caused by coughing and sneezing.
Also protects from dust, pollen, fine particles.
Offers full coverage, and is highly elastic and comfortable
Apt for both men and women.
Best fashionable masks in India -Explore this list of the best masks in India that you can buy for protecting yourself against virus and germs