Bralette Tops on Myntra Under 1000: Yes, that's what we're going to discuss today. So, grab some snacks, your drink, and sit tight to see what bralette tops will UP your fashion game this time.
Summers are amazing, especially when you want to try those cute tiny cropped outfits/wearables. Also, when it comes to fashion, summers give you massive options/alternatives to try to feel brighter and happier. 
These are the times you need comfy cute clothes, of course, to chill well despite wearing something heavy and blocking to make you more sweaty and ewww. 
So, what if you need to hang out with your friends or maybe go on a date? DUH! You cannot simply go in your home clothes. Maybe sometimes, LOL, but not always, right. 
This is where cute bralette tops come in to make you look your absolute best while staying super cool. 
Note: The prices of these bralette tops may fluctuate. However, it's gonna remain under Rs. 1000 for sure!!
Bralette Tops Under 1000 on Myntra for a Chic Summer Look! 
So, ready to look chic? 
1. Darzi Black Halter Neck Bralette Crop Top
This top speaks 'confidence' if not anything else. This bold, halter neck bralette is an excellent choice to wear in the evenings.
Additionally, it bares the back, which means more heads will be turning towards you.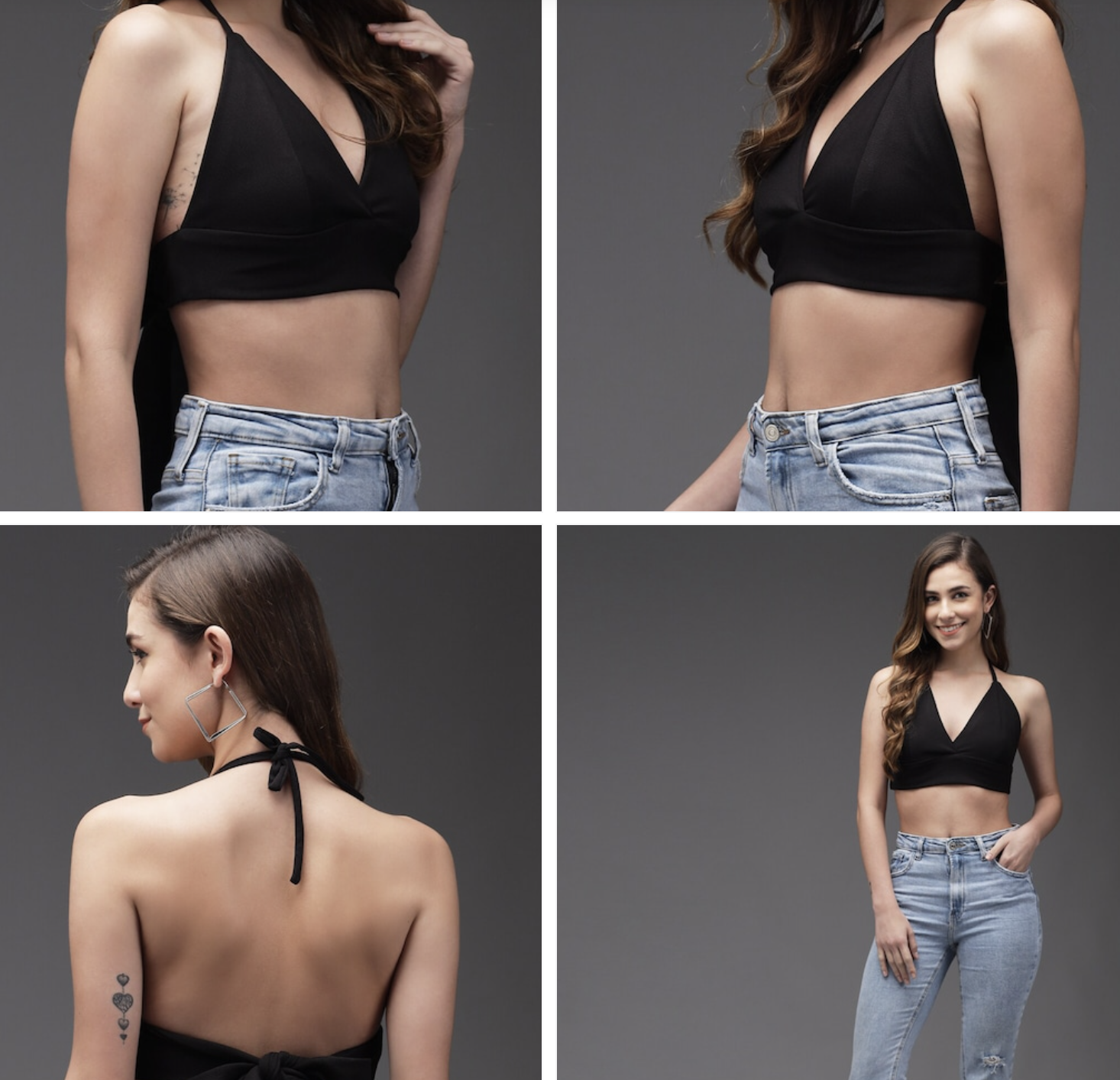 Pairing it with blue denim is a classic combination; however, you can experiment as much as your imagination allows because each combination will look stunning.
As for the material, it is made up of polyester, which means not only it is comfortable but you can toss it in the washing machine for easy cleaning.
Price (as in August 2022) – Rs. 449.
Grab the deal here:

 Myntra
2. STREET 9 Net Blouson Crop Top
STREET 9's idea behind this top is that people keep on updating their wardrobe with the latest trends: however, there are some clothes that become essential.
And this top is aiming to become your wardrobe staple.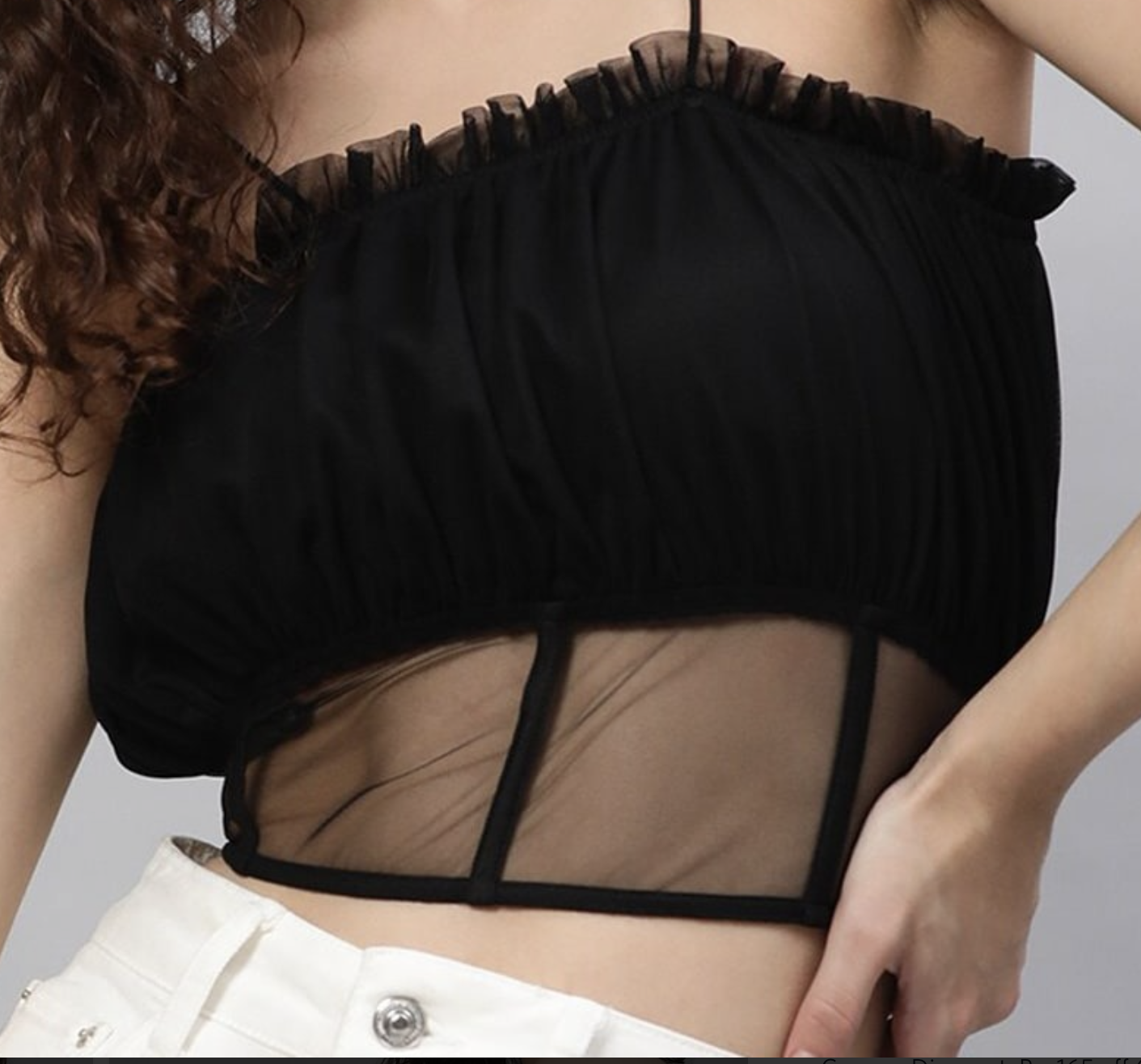 Also, this bralette is designed to be durable so that you can use it for multiple years. Additionally, you can clean it well in a washing machine. So, no worries even if it gets dirty. 
This top looks gorgeous, and the netting underneath creates a curiosity that is truly attractive.
Price (as in August 2022) – Rs. 493.
You can pick it up from

 Myntra.
3. BRACHY Maroon Floral Embroidered Lace Bralette Crop Top
This is among the latest bralette options available on Myntra.
But just look at it! It is simply amazing!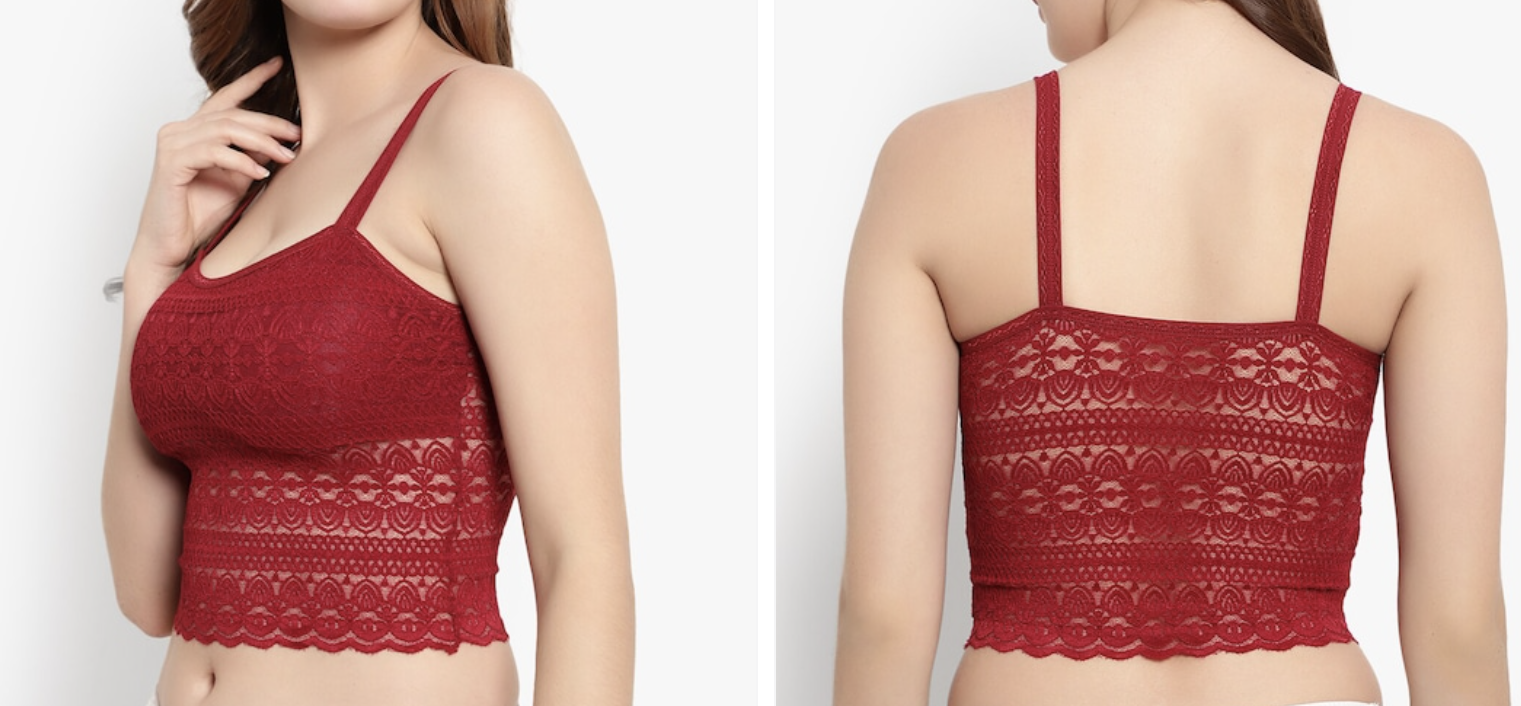 The pattern on this top is really attractive, plus the almost net-like floral pattern underneath brings out the cute nature of the bralette.
You can pair this top with literally anything. It can be worn with jeans, shorts, and even a skirt.
Price (as in August 2022) – Rs. 999.
Get it on

 Myntra.
4. Besiva Polka Dot Print Bralette Top
Feel like regular bralettes are not bold enough for you? Then this top is for you.
This strapless bralette is as confidence-inspiring as it is cute. Don't be surprised if you turn heads constantly while wearing this top.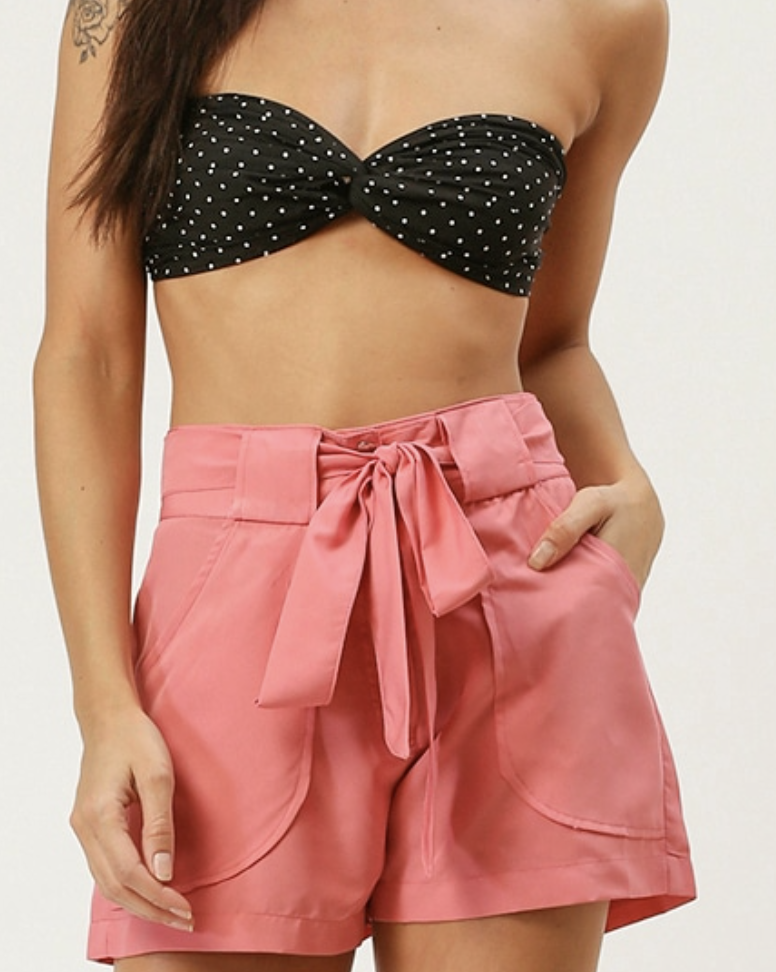 It is highly recommended for pool parties.
To make your outfit more interesting, you can wear a shirt on top of it.
Price (as in August 2022) – Rs. 746.
This amazing top is available on Myntra.
5. Popwings Crepe Bralette Crop Top
What can possibly make bralette better? A zipper.
This bralette from Popwings ensures a comfortable fit with an easy-to-wear zipper approach.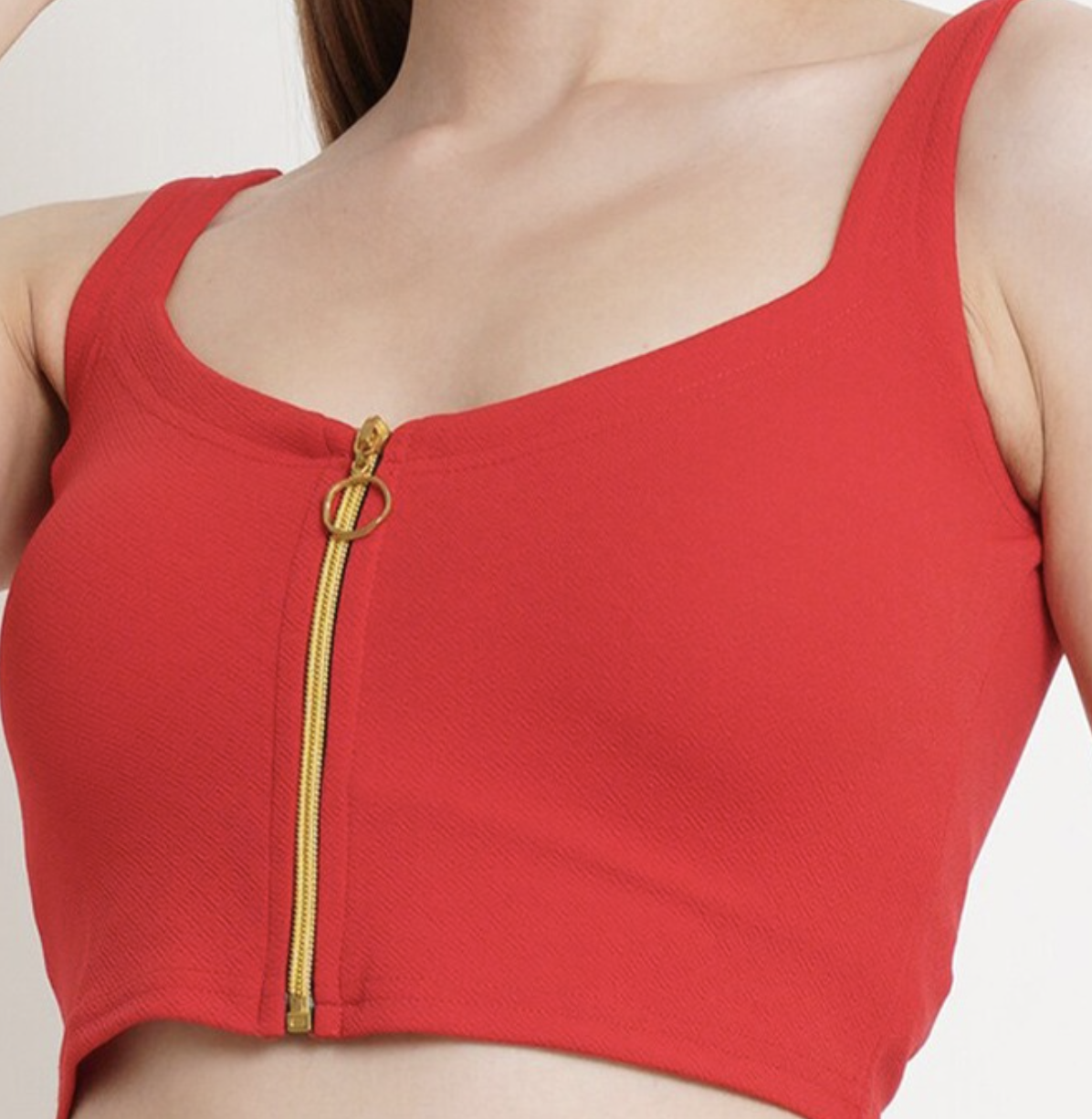 This top is composed of polyester and lycra, meaning you can toss it in the washing machine and forget about it.
Pop wings are definitely aiming for convenience with this bralette.
Price (as in August 2022) – Rs. 584.
You can get it on

 Myntra.
6. Disrupt Bralette Crop Top
This company stays true to its name by providing you with a bralette that disrupts the attention of people around you.
The one-shoulder strap is beautifully designed that split into two straps at the back. Not only does this make this bralette attractive, but an interesting one as well.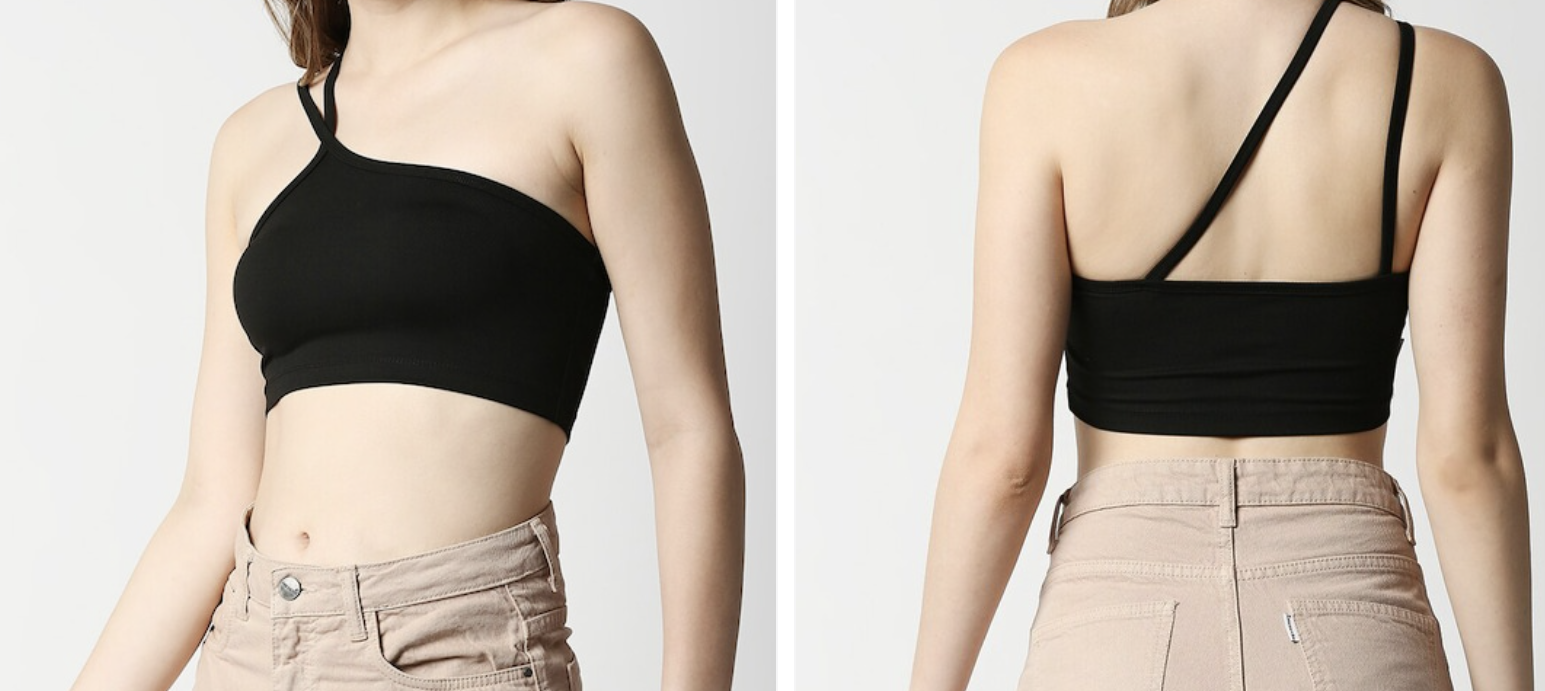 Did I mention it is from the new season?
Price (as in August 2022) – Rs. 449.
Pick it up before your friends from

 Myntra.
7. Darzi Bralette Crop Top
This top is as unique as it is traditional.
Darzi realized that some fashion trends are forever, and offer this bralette that resembles the funky 80s vibe yet retains modernism.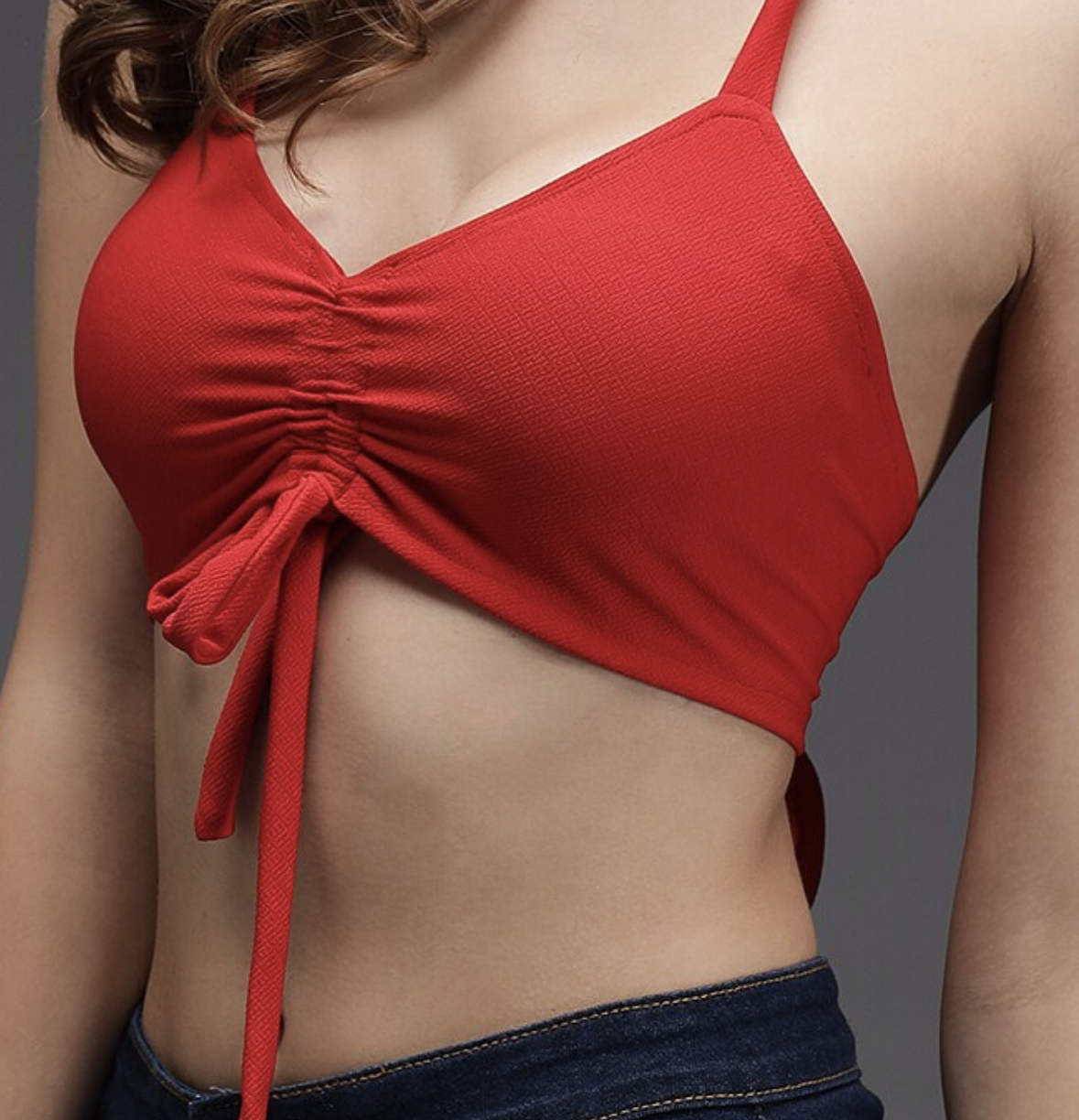 The bow tie in the back certainly makes you look like a present.
Another great thing about this top is that it is a washing machine safe.
Price (as in August 2022) – Rs. 449.
Make it your NOW as you buy it from Myntra.
Bralette Tops on Myntra Under 1000 that will make you fall in love with this season once again. So, wait no more, grab at least one before 'em all and flaunt your selfies on Instagram too. 
Note: All Images Source is Myntra!