Hey, y'all! So, Korean Beauty trends have rolled over the world. Those sparkly and all-natural looks are back with a bang, and people are loving it. And, here are Korean Makeup Trends 2020 that you need to know right now.
2020 has not been such a good year so far, but that doesn't halt our makeup routine anyway, right?
Heading straight to the trends that you can follow in 2020 if you are a Korean makeup lover!
Korean Makeup Trends 2020- The Perfect Glowing-Natural Look
1. Fuller Plump Lips are In!
Who isn't mesmerized by those fuller plump rosy lips? The renowned Korean makeup takes all the credit to get it into fashion again. Earlier, it promoted the gradient lip look, which now is being replaced this year.
So, fashionistas, heads up- no more gradient lips, fuller plump lips is what rules the world now.
Go for those reddish/orange tones, as said by Korean makeup experts, to maintain this newly bud trend.
Burnt, Brick, Red- You will get to see these terms more this year when looking for Korean makeup!
Korean makeup lips are in, y'all.
2. Let those Eyes POP
K-beauty has never let this trend failed. You just need to pop your eyes, and you are ready to go.
Ditch eyeliner, what's going to help you is MASCARA- a few strokes of that good mascara brushes on your lashes, and bam- your eyes are ready to rock!
EYELASHES EXTENSIONS are sure to add volume and boldness to the eyes. Go for the best ones, though.
It is a year of shine and glitter, it seems.
3. Gloss it Up, Y'all
Glass skin, glossy lips, rosy cheeks- that's the need of K-beauty. Glossy is in! 2020 is all about being glossy, shiny, and tint.
Korean makeup brands are following the trend and emphasizing on producing more glossy tints for the crowd.
That hydrating look on the face is in!
K-beauty is about glossy, shiny, and glass skin in 2020.
4. Natural Brows are In
No fuller and filled eyebrows, folks. Natural is in! The shape, color, and alignment of it should be more natural and not made-up.
Bye to those perfectly in shape brows; K-beauty is about those natural feathered brows this year.
We are switching to the natural looks, again. Minimalism is the key to master K-beauty.
Be ready for a Korean makeup look, as you follow these trends this year.
So, natural brows, glossy lips, mascara filled lashes, sparkly eyes, plump lips, cool hairstyles, and burnt shades are what's trending in Korean Makeup Trends 2020.
Why Is Korean Beauty So Popular?
Because it is different! Yes, Korean makeup products are unique!!!
Reasons Why Korean Beauty stands out of the crowd are:
1. Best Ingredients (Upshot of In-depth Research)
Koreans have sensitive skin! The companies there endeavor to produce products that are gentle on skin. That involves in-depth research, and that's what makes these products better than others.
Nothing but the best ingredients are used to make Korean products. Hence, the best results.
2. Their Formulas are Effectual, yet Reasonable
Skincare isn't a luxury for them, like the rest of the world. It is a need, and they are damn picky about it.
Results? We all can see it!
They know how important skincare is for us all.
Since skincare and beauty are at such priority in Korea, even companies invest in the best ingredients to develop products- that are pretty affordable yet effective.
Some products are even available for $1!
Just imagine!!!
I am wondering how lucky Koreans are- they get the best ingredients in cosmetics, at an affordable price, and the best skin care in the world.
Awesome!
3. They Don't Rely on a Single Product!
Since this market is humongous, so is the competition.
But that never distresses them!
Every Korean has a different line of products for their skincare. They don't just rely on anyone product or line for that glowing skin. Perhaps, that's why they shine!
Korean makeup brands are many, and people use it all.
No one really relies on a single brand.
4. Appearance Matters- Be it Theirs or of Products!
The design matters! They focus on how their products look.
As we said, there is a lot of competition, so every product needs to stand out, or every brand, I must say.
The motive is to grab the buyer's attention!
Some incredibly attractive designs do the job for them.
Flowers, Panda, cats designed in perfect bright colors are enough to grab their eyes.
This oh-so-cute and adorable presentation of products seal the deal for these companies.
What Is the Best Korean Makeup?
So, everyone is curious about the makeup products Koreans use, it seems. Here are some that you can bag this year.
Best Korean Makeup!
Here's the list:
1. Green Tea Clay Mask
A deep cleansing clay mask that will clean pores and give you a soothing soft skin. It pulls out all dirt from our skin, allowing it to breathe better and look healthier.
Gorgeous looking lip tint that is stored in popsicle shaped containers. It grabbed the eye of people around the world in no time. In no time, it became the hottest trend that people were demanding like crazy.
Available in 6 vibrant shades!
A beautiful vibrant blush that they suggest to use after shaking the bottle. Why shake shake as the name says? It creates brighter colors that even allows you to adjust the shade you crave for.
Available in 6 unique shades!
I wonder who wouldn't buy this!
Packed in a super cute tube, this hair protein treatment is just the apt thing for damaged hair. Hair mask that is quick and convenient to use.
They especially recommend it for those who have damaged hair, and it suits all hair type.
Get this deep-repairing treatment at home, all by yourself.
Super quick and easy-peasy!
You will surely gush over this bun puff made by Koreans!
A super delightful puff that effortlessly blends the foundation with your skin. It is washable, reusable, and doesn't absorb too much.
Use it, and then wash it to reuse.
You can use different kinds of products, including concealer, foundation—powder, cream, and liquid too.
Cute and useful, isn't it?
Strengthened and lengthened lashes are no more a dream.
Koreans do care about their customers, and here is a product to make lashes longer and stronger.
It keeps lashes intact, making it look voluminous and healthier!
The application is super easy- Just a few strokes and you are done.
It's juicy; it's strawberry!
This cutie lip balm moisturises the lips, and make it glossier and healthier.
So, when you need serious moisture to soothe those dry lips, this is just one thing you need.
Available in different tints, so that you have options while adding moisture to the lips!
Korean beauty is in! Their products, their way of applying makeup, is unique and striking.
The sparkling eyes, glossy lips, rosy cheeks are what they have added to the trends in 2020, and if you always wanted those cute-looking Korean products, here I have added a few from that long list.
Go on and get your favorite one right away, folks.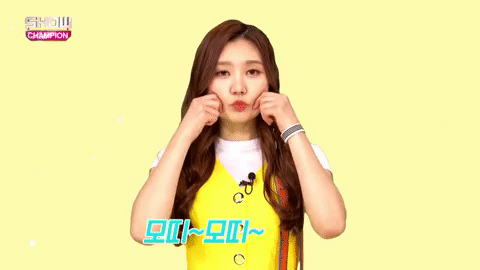 Keep up the Trends of K-Beauty!!!