How Efficient is this New Thing called 'Signal?'
Signal – The new vibe in the messenger world (is it going to stay or go down the rabbit hole)? Umm, Elon Musk was seen promoting the Signal app, though, which has proven to be a good signal for Signal.
Signal tweeted on January 7, 2021
Verification codes are currently delayed across several providers because so many new people are trying to join Signal right now (we can barely register our excitement). We are working with carriers to resolve this as quickly as possible. Hang in there.
To, which Elon Musk replied:

So, what is the app about? Why are people going gaga over this app?
Formation – 10 January 2018 (3 years ago)
Founders – Moxie Marlinspike & Brian Acton
Location – Mountain View, CA
Products – Signal, Signal Protocol
Fields – Open-Source Software and Free, Mobile Software, and Cryptography
Parent Firm – Signal Foundation
Website – Signal.org
What is Signal App?
As per Wikipedia,
Signal is a cross-platform centralized encrypted messaging service developed by the Signal Foundation and Signal Messenger. It uses the Internet to send one-to-one and group messages, which can include files, voice notes, images, and videos. Users can use Signal to make one-to-one and group voice and video calls, and the Android version can optionally function as an SMS app."
Signal used 'telephone numbers' to identify and secure all communications.
It uses end-to-end encryption.
Incorporated mechanisms that allow users to verify the contact
Users can check the integrity of the data channel.
Free & open-source software.
Published under GPLv3 license, and server code under the AGPLv3 license.
Owns official client app for web app & iOS.
When was 'Signal' Launched?
The initial release of Signal was on 29 July 2014.
Stable Release:
Android 5.1.8 / 12 January 2021
iOS 2 / 13 January 2021
Desktop 1.39.5 / 14 January 2021
Preview Release:
Android 5.1.4 / 10 January 2021
iOS 1.0.30 / 8 January 2021
Desktop 1.39.5-beta.1 / 13 January 2021
The non-profit Signal Foundation was launched back in February 2018. Initial funding for the Signal foundation came from Brian Acton of $50 million.
Signal crossed 32.4 million downloads in June 2020 and had around 20 million monthly active users when recorded in the last month of the last year.
Why Signal?
It is a simple, powerful, and secure messenger!
1. Secure Sharing
End-to-end encryption is the reason why you should be installing it on your phones. That means your conversation, the entire communication chain is super safe. Unlike other messengers or chat apps, Signal allows users to complete security. The signal doesn't read your messages, listens to the calls, and doesn't allow anyone to do so. That's how the Signal app works.
"Say Anything – Speak Freely – Get Together with Groups – Make Privacy Stick"
2. No Trackers & Ads
There is no creepy tracking in this gorgeously safe app called Signal. No affiliate marketers and zilch ads. Hence the focus is not on selling space to the clients. The aim is to create a secure space for people to chat freely and communicate without any hesitation and loss of privacy.
3. Free for All
The signal app is an independent non-profit. They haven't tied up with any tech dominators in the market. Grants and donations support the development process of the Signal app, and that's why people are literally going gaga over this amazing app.
Who's Saying What About Signal App?
The Economic Times says, "We are making progress towards getting the service back online. Privacy is our top priority, but adding capacity is a close second right now," add the tweet image here. According to estimates, in India, people have downloaded signal by close to 3 million users. WhatsApp on Friday (local time) said it has decided to postpone a privacy update due to "misinformation causing concern" among people, the company said."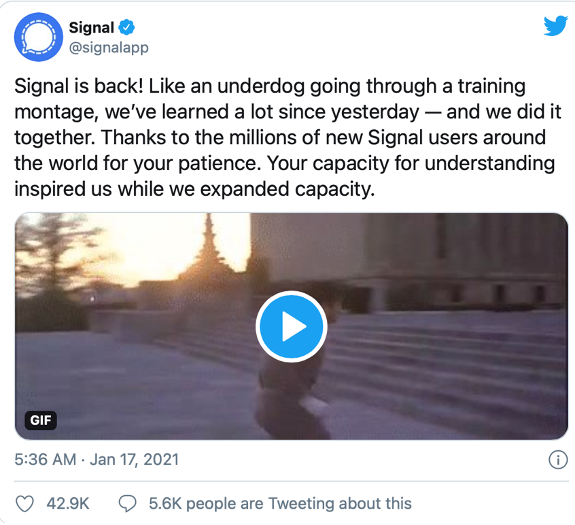 How to Avoid Getting 'NEW FRIENDS JOINED ALERTS' on Signal?
Downloaded Signal recently? You might come across a problem like not able to stop 'new friends joined alerts.' Fret not, here's what you can do:
Open 'Signal' on your Smartphone, tap on the three-dotted icon, which you can locate on the right screen of the top.
Click on settings and then notifications.
Scroll, toggle off 'Contact Joined Signal.'
Signal App Current News
After the launch, when Signal faced certain technical difficulties, Signal said,
We've been adding new servers and extra capacity at record pace every day nonstop, but today exceeded even our most optimistic projections," Signal wrote.
FAQs About SIGNAL
Who is the owner of the Signal App?
Brian Acton is the owner of Signal App.
Who is Brian Acton and what does he do?
Brian Acton was born on 17 February 1972 in Michigan. He is an Internet entrepreneur and computer programmer. Currently, he is the executive chairman of the Signal Foundation. Brian Acton was earlier working with Yahoo! He co-founded 'WhatsApp' with Jan Koum, and sold it to Facebook later in 2014 for $19 billion. Acton started Signal Foundation in 2017 after leaving WhatsApp.
Is Signal App publicly traded?
No, Signal has no such plans to trade publicly as of now.
Signal seems to stay here. The way its demand is increasing is incredible. Fingers crossed for Signal and all other chat apps.